COVID-19 Policy and Guarantee
LAST UPDATED 25th FEBRUARY 2021
---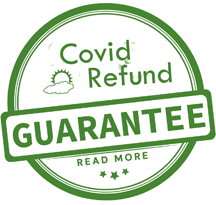 We will offer you either a transfer to another event, next year or a full refund.
Like the rest of the Country, we have been eagerly awaiting Boris' "Roadmap" out of lockdown and are really pleased to hear that hopefully, by 21st June we should be back to enjoying life as normal (ish!). (Fingers firmly crossed!!)
We want you to buy your tickets with confidence. So, we promise that in the unlikely event that a GBFF Event (or any individual day) had to cancel due to Covid 19, all persons booked for any affected day(s) would be able to transfer their tickets, to any GBFF Event taking place later in 2021, or to the same venue's Event in 2022. In the event that neither option was suitable, a refund for the full price of the tickets paid would be issued.
Please be assured, that the health and safety of our visitors, staff and exhibitors remains at all times our paramount consideration. We will continue to monitor and follow all UK Government's guidance in respect of Covid 19, to ensure that all GBFF Events can proceed in a Covid 19 responsible and secure manner.
So what will we do to keep everyone safe?
Those who have visited a GBFF Event previously, may notice a few changes for this year (particularly at our earlier events), to help us ensure that everybody who visits, works or exhibits at our Events can do so safely.
Please help us to help you and all of our visitors, staff and exhibitors to stay safe by respecting all people on site and following any and all guidelines/procedures we have put in place, maintain good hand hygiene and keep a safe distance between yourself and other households/groups throughout your visit.
If you, or a family member, has tested positive, displays any symptoms of COVID-19, or has been told to self-isolate, we must respectfully insist that you do not visit GBFF.
In addition to the above, at all of our Events we will adopt where appropriate and/or required, a combination of the following measures:
• All tickets for our pre June 21st events, must be bought online in advance. This enables us to ensure compliance with the current Government regulations surrounding numbers attending outdoor Events, pre June 21st.
• One-way systems - particularly around busier areas of site (site perimeter/trader marketplace, etc). This will assist us with visitor flow and compliance with any social distancing requirements.
• Open-fronted market style structures, not large closed marquees - Exhibitors to be housed in open-fronted market-style structures. To ensure that all visitors can remain outside in the fresh air, rather than creating temporary indoor areas/dwell points. If the weather is forecast to be less than perfect, please come dressed appropriately and bring a brolly!
• Catering Outlets will be operating in compliance with current COVID 19 Guidance. All Exhibitors will have hand-sanitiser available and prominently displayed on their stall. If required or deemed appropriate, all Exhibitors selling freshly prepared food/drink (not pre-packaged) will be requested to wear an appropriate face covering and gloves (unless they have a medical reason exempting them from so doing).
• Hand sanitisation points will be available throughout site.
• Cleaning - Regular, scheduled cleaning will be in operation throughout the day for toilets and all multi-touch points across site.
• Children's Entertainment – only attractions who are able to operate in a COVID 19 secure and responsible manner will be booked for GBFF 2021.
• Online Advance Bookings – encouraged through discounted online tickets. With contactless check-in. Contact-less card payments for bookings on the day preferred and encouraged.
• Cash-less Events – we are working on boosting wifi across all of our sites – so as to enable card payments across as many sale points as possible. Please bring cash as a back-up, but pay by contactless card where possible.
• What's On Guides – will be available digitally for 2021, rather than as a paper print-out. Helps reduce contact points from a Covid 19 perspective (and also helps the world by adding a little less waste to it!!)
Please note that this list of measures is not exhaustive, we will revise and update it continually as things develop and guidance/rules change.